One night only, Kevin Kern and Amy Janelle Live in concert.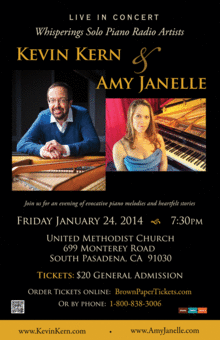 Doors open at 6:30pm, the concert begins at 7:30pm
There will be a 15 min intermission.CDs and Songbooks will be available for purchase. Following the show there will be a "meet and greet" opportunity with Kevin and Amy. Autograph and photo opportunities are possible.An evening of music and storytelling with Steinway Artist and composer Kevin Kern and fellow Whisperings Solo Piano Radio Artist, Amy Janelle.